Black Friday 2022: despite record high inflation, interest in the shopping holiday was higher than a year ago
Black Friday special offers have become a tradition. As every year, campaigns with bargains start at the end of November, encouraging consumers to take advantage of the opportunity and buy a selected product at a new, lower price. It would seem that now – in the era of record high inflation – the enthusiasm of Poles towards the shopping madness will weaken. Meanwhile, according to the report "Social Media Discussions about Black Friday – 2022", published by PSMM Monitoring & More and dentsu Polska, we are dealing with a significant increase in consumer interest compared to the previous year.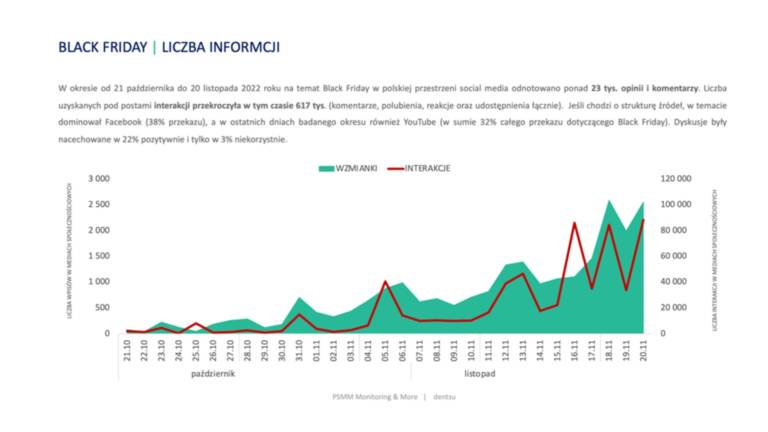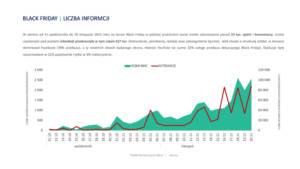 The data collected by PSMM Monitoring & More and dentsu Polska between October 21 and November 20, 2022 featured as many as 23,000 opinions and comments and 617,000 interactions under published posts. The majority of publications –  75% – were neutral. These mentions were only a subjective source of information about promotions and offers. The message was usually limited to talks about current offers or the desire to hunt for a bargain. Only 3% of entries presented the shopping holiday in an unfavourable way. Negative opinions concerned marketing tricks used by brands. Some of the Internet users indicated that during Black Friday price manipulation may occur.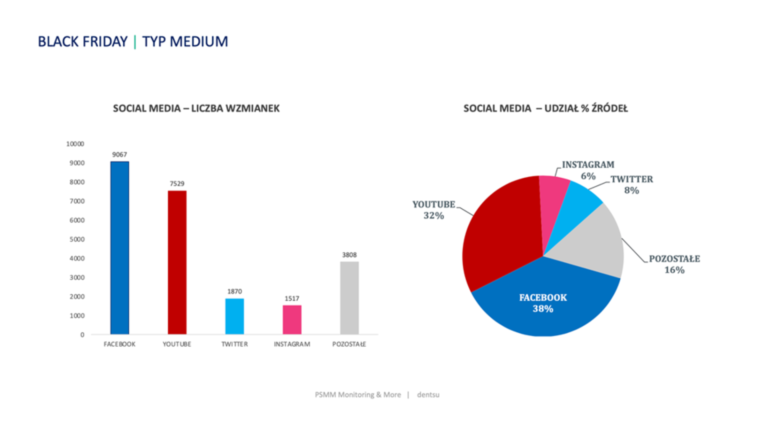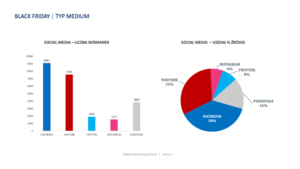 Although in Poland we are currently dealing with record high inflation, interest in Black Friday does not decrease. 'The conducted research showed that the interest of social media users in the topic of Black Friday is higher than a year ago. This shows that nowadays, when we have to deal with record high inflation, we see Black Friday as an opportunity to buy clothes, shoes or Christmas gifts at significantly lower, promotional prices,' explains Izabela Grzechnik, project manager for new research and development at PSMM Monitoring & More.
The media coverage was dominated by references to the level of discounts, good or even excellent deals, attractive prices, discount codes and exceptional promotions. 'Black Friday is undoubtedly one of the most important shopping holidays of the year and the most important shopping moment for e-commerce customers. According to the PSMM Monitoring & More report, for over a month the Internet was buzzing with mentions and opinions about Poles' shopping plans. Many of our clients started "teaser" activities before Black November at the end of October! One thing is certain – although the interest in Black Friday is high, the current market situation means that Poles will certainly focus on more thoughtful shopping, and this is a big challenge for brands,' comments Weronika Szczepanik, Client Performance Manager, dentsu Polska.
More information on Black Friday can be found in the report "Social Media Discussions about Black Friday – 2022": https://psmm.pl/wp-content/uploads/2022/11/black-friday-w-social-mediach-2022.pdf
Contact:
Katarzyna Popławska
Head of marketing & PR
mobile: +48 697 410 680
kpoplawska@psmm.pl
PSMM Monitoring & More
60-801 Poznań, ul. Marcelińska 14
www.facebook.com/PSMMonitoring
Katarzyna Pastuszka
Managing Partner
+48 607 512 254
Publicon Services Sp. z o.o.
50-365 Wrocław, Plac Grunwaldzki 23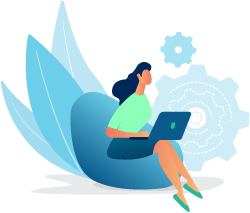 PROTECT BRAND IMAGE,
REACH CUSTOMERS,
BOOST SALES