A remarkable growth in the popularity of ChatGPT. Who are the users of the tool?
Polish-language media featured nearly 100,000 publications devoted to ChatGPT in just a few months after the market launch of the solution. Young women spend the most time on the company's website and the number of Polish ChatGPT users reached almost 3 million in April 2023. PSMM Monitoring & More, Gemius and Polskie Badania Internetu have published a report on the subject based on material and data collected from 27 December 2022 to 30 April 2023.
ChatGPT is an artificial intelligence-based web application provided by OpenAI. It can be used free of charge on the company's website, openai.com, after registration. The main purpose of ChatGPT is to answer questions posed by users, provide information or help solve problems (e.g. content creation, idea generation, programming and technical support).
The emergence of the tool has also led to the rise in popularity of artificial intelligence as well as Open AI. An increase in publications in this context can be seen from 27 December 2022 onwards.
ChatGPT in the media
During the analysed period, there were almost 84,000 publications in traditional media, mainly online portals, as well as more than 12,000 posts on social media, including almost 7,300 messages on Twitter.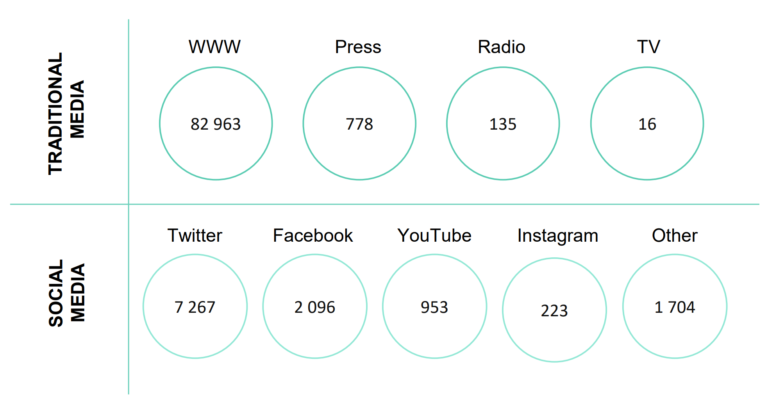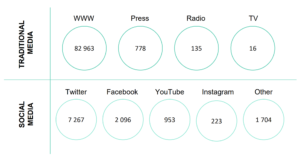 Number of publications in traditional media and social media sources (December 2022 – April 2023)
Source: PSMM Monitoring & More
"Media outlets most often discussed the opportunities offered by ChatGPT as well as the potential risks arising from both the use of the app and the robust development of artificial intelligence," explains PSMM Monitoring & More expert Weronika Podgórska. "The publications referred to overconfidence in the correctness of the answers returned as well as fears that ChatGPT would eliminate some professions," she adds.
Most media items devoted to ChatGPT in the analysed period were published by cyberfeed.pl (222), spidersweb.pl (190) and antyweb.pl.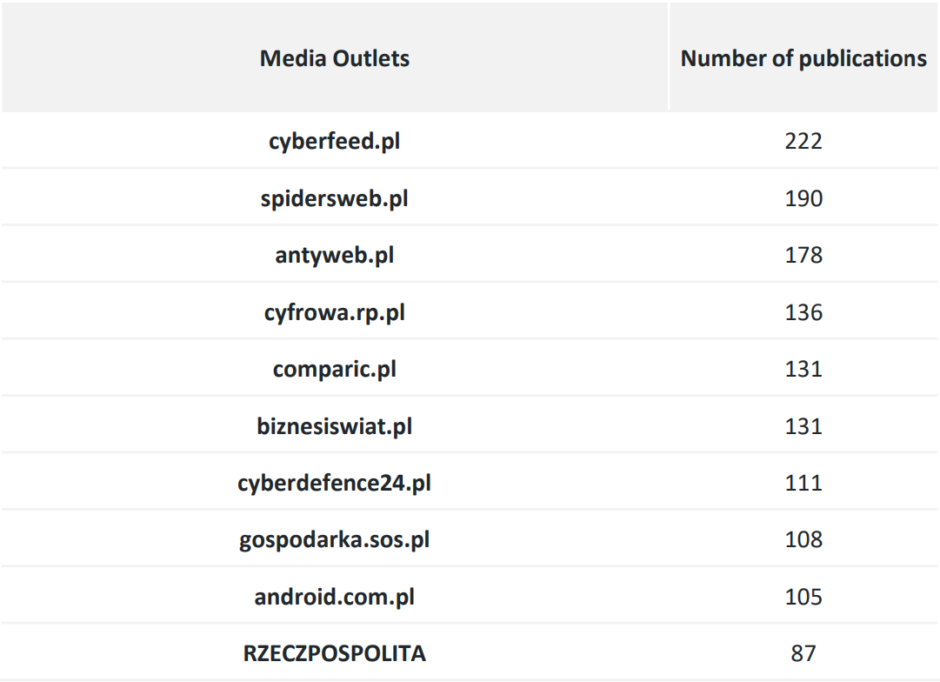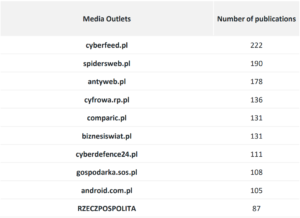 Top 10 most active sources in the context of ChatGPT (December 2022 – April 2023)
Source: PSMM Monitoring & More
Who are ChatGPT users?
Based on the results from Mediapanel, an online audience measurement standard co-created by Gemius and Polskie Badania Internetu, the study analysed Polish Internet users' visits to the OpenAi.com website as a place to access ChatGPT. The final days of December 2022 attracted a total of 155,000 users. In January, their number already reached 1 million, in February 2 million and in April nearly 3 million.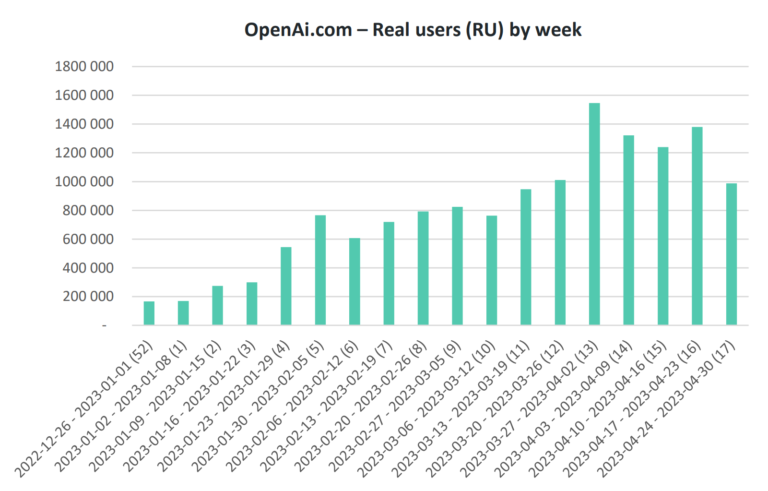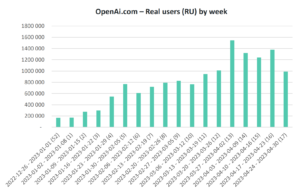 Source: Mediapanel (December 2022-April 2023)
"In the case of ChatGPT, we are seeing a phenomenon called media hype and its translation into an interest in the product – media hype in the Polish media drives traffic from Poland to the provider's website," says Anna Miotk, Head of Communications at Polskie Badania Internetu. It is a mechanism used by public relations specialists – increased media coverage is expected to contribute to better business results. Of course, the media hype is not always on such a large scale as the hype around ChatGPT but if the media are systematically writing about a product, it works," Miotk adds.
We divided openai.com users in April 2023 into two age groups: 7-39 years and 40-75 years. In the first of these groups, the Affinity Index, indicating interest in the service, reached a value of (100) for women, which means that the proportion of women of this age in the structure of users of the service is the same as in the population of internet users. For males aged 7-39, on the other hand, the index reached 173, indicating a strong overrepresentation of them in the user structure. However, it was younger women who spent more time on the site, averaging 44 minutes and 22 seconds, while younger men spent 29 minutes and 45 seconds on it.
 OpenAI.com – real users from Poland
Sex vs Affinity Index and average time spent on the site by month


A new tool = a new area for education and business
The launch of the ChatGPT tool has sparked a flood of mentions of training, workshops, lectures and courses devoted to chatbot use. This was accompanied by information about webinars that demonstrate how chatbots work and how they can be used in specific industries. Many people instantly saw this as a business development opportunity.
Full report: https://psmm.pl/wp-content/uploads/2023/05/chatgpt-w-mediach-raport-medialny.pdf
PSMM Monitoring & More, Gemius and Polskie Badania Internetu consent to the full or partial publication of materials provided that the source is quoted (full names of the companies, i.e. PSMM Monitoring & More, Gemius, Polskie Badania Internetu).
 PSMM Monitoring & More
A leader in comprehensive monitoring of the internet, social media, press, radio and TV. The company provides services for major corporations, PR agencies, companies and public institutions. PSMM Monitoring & More specialises in media audits and multilayered media reports that are essential for professional image management, consultancy, insights, strategy support and services for public relations, marketers and decision-makers. We organise information coming from the media and use it to create knowledge that makes it possible to better understand the world around us, predict the future and make better business decisions.
Gemius
Gemius is a Polish research and technology company that has been successfully developing and implementing proprietary digital media research technologies in Poland and abroad for over 20 years. Among other things, Gemius measures the viewership of websites and web applications, the listenership of audio content on radio and the internet, the viewership of video content both on TV and in online players, as well as the viewership and listenership of advertisements accompanying the consumption of all these types of content. The company operates in nearly 40 markets in the EMEA region and has local branches in 12 of them. Gemius' clients include advertisers, media, media houses, advertising agencies and e-commerce companies. The company's research is carried out in accordance with the principles of the international ICC/ESOMAR code.
PBI
PBI supports the market with the knowledge that makes it possible to make better business decisions in the digital environment. To this end, the organisation conducts and makes available the results of the Gemius/PBI survey, which is an integral part of Mediapanel's cross-media project. PBI data are used by representatives of publishers, media houses, research departments of large companies and interactive agencies. PBI contributes to the development of the digital marketplace, also sharing its expertise and establishing cooperation with similar partner organisations.
MEDIA CONTACT:
PSMM Monitoring & More
Katarzyna Popławska
Head of Marketing and PR
mobile: +48 697 410 680
e-mail: kpoplawska@psmm.pl
Gemius
Izabela Knyżewska
Marketing & PR Manager
mobile: +48 691 104 720
e-mail: izabela.knyzewska@gemius.com
PBI
Anna Miotk
Head of Communications
mobile: +48 606 611 500
e-mail: a.miotk@pbi.org.pl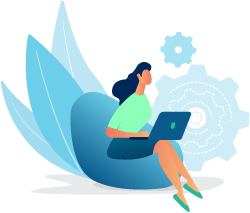 PROTECT BRAND IMAGE,
REACH CUSTOMERS,
BOOST SALES